18650 3.7V 3350mAh Rechargeable Lithium Battery Wholesale OEM/ODM
Product Detail
Parameter
FAQ
Product Tags
 Main Features: 
1.High Operating Voltage (3.7V)
2.High energy density; Advanced technology providesultra-high capacity Li-ion batteries
3.Wide operating temperature range; Li-ion batteries can be charged over a temperature range of 0°C to 45°C, and discharged between -20°C to 60°C
4.Designed for a safe operation, all batteries are equipped with multiple safety features, including a safe shut-down separator and a safety vent
5.High-output and high-load characteristics; Continuous discharge rate is at 2C
6.Low self-discharge rate and along cycle life
7.No memory effects
Model

Nominal Voltage(V)

Dimension

Capacity(mAh)

Discharge Performance

Diameter(mm)

Height(mm)

ICR10150

3.7

10.3

15

80

0.5C-1C

ICR10440

3.7

10.3

44

350

0.5C-1C

ICR10840

3.7

10.3

84

600

0.5C-1C

ICR14200

3.7

14.2

20

150

0.5C-1C

ICR14280

3.7

14.2

28

320

0.5C-1C

ICR14430

3.7

14.2

43

550

0.5C-1C

ICR14430

3.7

14.2

43

600

0.5C-1C

ICR14430

3.7

14.2

43

650

0.5C-1C

ICR14500

3.7

14.2

50.2

500

0.5C-1C

ICR14500

3.7

14.2

50.2

600

0.5C-1C

ICR14500

3.7

14.2

50.2

650

0.5C-1C

ICR14500

3.7

14.2

50.2

700

0.5C-1C

ICR14500

3.7

14.2

50.2

800

0.5C-1C

ICR14650

3.7

14.2

65

1000

0.5C-1C

ICR14650

3.7

14.2

65

1200

0.5C-1C

ICR16340

3.7

16.8

34

700

0.5C-1C

ICR16500

3.7

16.8

50.2

1000

0.5C-1C

ICR16500

3.7

16.8

50.2

1200

0.5C-1C

ICR16650

3.7

16.3

65.2

1800

0.5C-1C

ICR18350

3.7

18.3

35.2

850

0.5C-1C

ICR18500

3.7

18.3

50.2

1200

0.5C-1C

ICR18500

3.7

18.3

50.2

1400

0.5C-1C

ICR18500

3.7

18.3

50.2

1500

0.5C-1C

ICR18500

3.7

18.3

50.2

1600

0.5C-1C

ICR18500

3.7

18.3

50.2

1900

0.5C-1C

ICR18620

3.7

18.5

62.2

2000

0.5C-1C

ICR18650

3.7

18.5

65.2

1300

0.5C-1C

ICR18650

3.7

18.5

65.2

1500

0.5C-1C

ICR18650

3.7

18.5

65.2

1800

0.5C-1C

ICR18650

3.7

18.5

65.2

2000

0.5C-1C

ICR18650

3.7

18.5

65.2

2200

0.5C-1C

ICR18650

3.7

18.5

65.2

2400

0.5C-1C

ICR18650

3.7

18.5

65.2

2500

0.5C-1C

ICR18650

3.7

18.5

65.2

2600

0.5C-1C

ICR18650

3.7

18.5

65.2

3000

0.5C-1C

ICR18650

3.7

18.5

65.2

3350

0.5C-1C

ICR21700

3.7

21.5

70.2

4200

0.5C-1C

ICR22430

3.7

21.5

43.2

2000

0.5C-1C

ICR22500

3.7

22.3

50.2

2400

0.5C-1C

ICR22650

3.7

22.3

65.2

3000

0.5C-1C

ICR26350

3.7

26.5

35.2

2000

0.5C-1C

ICR26500

3.7

26.3

50.2

3200

0.5C-1C

ICR26650

3.7

26.3

65.2

4500

0.5C-1C

ICR26650

3.7

26.3

65.2

5000

0.5C-1C

ICR32550

3.7

32.5

55.2

5000

0.5C-1C

ICR32600

3.7

32.5

60.5

5500

0.5C-1C

ICR32650

3.7

32.3

65.2

6500

0.5C-1C

ICR34600

3.7

34.3

60.2

7000

0.5C-1C
Main Applications :
Audio visual equipment

Cellular phones

Security display stands for phones and tablets

Camera anti-theft display stands

Office automation

notebook PCs

PDA

Communication devices

Electronic instruments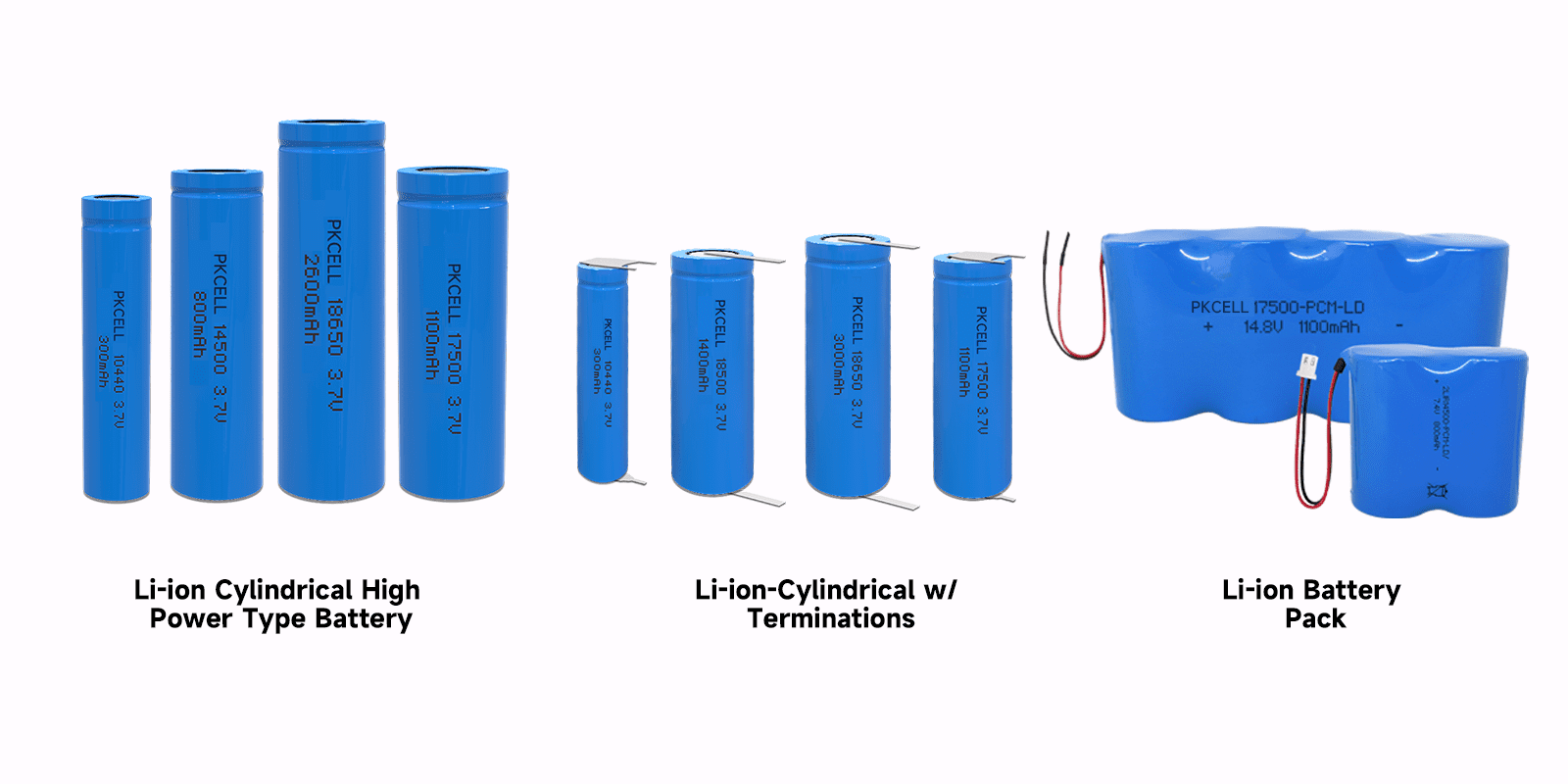 Pkcell Battery with Terminations, Pins, Tags
Battery is always available with different types of terminations, i.e. PC pins, tabs, solder tabs, leads, wire, cable and connectors. We hope you find the one in our product list and suite you the best. If not, our Customer Service can assist you to find one, or offer custom-made terminations to meet meet your specifications.
Custom Battery Pack
We manufacture custom battery pack assembly for electronic, industry and OEM business for decades. We are proud to serve our customers, some of them are world's most prominent companies, with engineering design, prototype, in-house testing, certifications, and mass-production. Our Customer Service can help for engineering suggestion to meet your specification.
Pkcell Battery Quality Control & Compliance
Check Pkcell manufacturing site and product compliance.
Safety Handling and Product Design with Pkcell Lithium Battery
Handling Lithium Battery Safely
---
Previous:
---
| | Model | Size | Weight | Voltage | Capacity | Action |
| --- | --- | --- | --- | --- | --- | --- |
Related PRODUCTS